LOUISVILLE, Ky. (WDRB) — There will be dozens of races decided across the state on primary Election Day, which is next Tuesday, May 17.
In the race for Jefferson County Sheriff, there are three challengers looking to defeat the incumbent, John Aubrey, in the Democratic primary.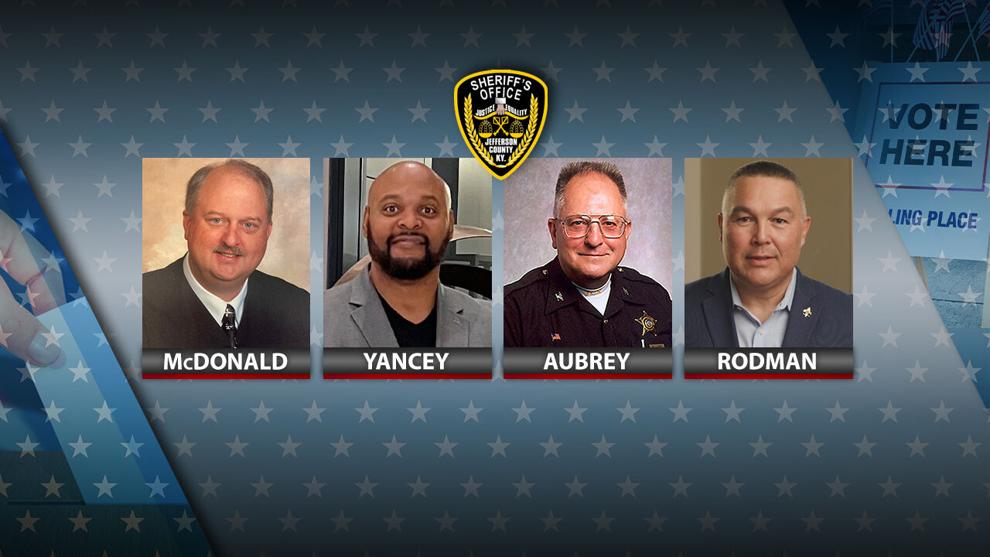 Sheriff Aubrey was first elected in 1998 and is seeking his seventh term.
George Rodman is a former Louisville Metro Police Officer of the Year and wants to change the sheriff's office in a way that works with law enforcement more in the field.
Stephen Yancey worked with the Sheriff's Office for more than 28 years before retiring. He wants to see bridges built between law enforcement and the community, and change the culture.
Martin McDonald is a former deputy and retired judge who wants to bring new ideas and his unique law background to the position.
WDRB News reached out to all four candidates. We were able to meet Yancey and Rodman for in-person interviews. McDonald is in Florida for a personal emergency, and spoke over the phone.
WDRB left messages at several different numbers for Sheriff Aubrey, including his office and campaign, but were unable to reach him until after 6:00 p.m. on Tuesday. We did speak to him briefly, then interviewed him Wednesday afternoon.
The candidates we interviewed were asked several questions each. Here's a sample of our conversation.
Why are you seeking the office of Sheriff?
Rodman: "The reason I am running for sheriff (is that) I've been raised in this city. I raised my kids in this city. And I have five grandkids that are, you know, a part of this city. About a year and a half ago, the deputies, the very deputies that work down at the sheriff's office actually approached me and asked me to consider running for sheriff. And I also had citizens that live in this city, and the big one was the business owners, said, 'George, we need you to get involved with what's going on in this city, especially as public safety.' And that's how I got involved."
Yancey: "I'm running for Jefferson County Sheriff to change the mindset and change the culture. I worked there for 28 years. I retired. And one of the reasons I'm running also, is that when I retired, the Courier Journal did an article about KKK members working there. And when you're in law enforcement, you can't have a certain feeling about groups of people and there's no room in law enforcement for hate groups. So therefore, I'm running to change that culture."
McDonald: "Some influx of some new blood, some new ideas. I want to get the men and women of the Jefferson County Sheriff's Office a living wage. And not that they're that deficient, but nobody talks about them, and I want to get them up and help retain them and keep them in service, and not allow them to leave for other agencies. And I want them to stay there and do the job for our public. So it's one of the things I'd like to do. I'm interested in it. I've been interested in my own life. I'm still young and healthy and available to serve the public and I'd like to do that."
What is your role as sheriff, if elected:
Rodman: "Work for the citizens that vote me in. That's the number one role, okay. And then my vision is to restructure the sheriff's office, put deputies on the streets to help LMPD, who is 300 officers down. No secret. We know the situation when it comes to public safety, the issues that we're having in Louisville. And I also want to start a domestic violence unit and a human trafficking unit. But the greatest advantage that I have compared to the other candidates is I am current. I've been serving in the 21st century. I still have contacts with local, state, and federal. And I'm very excited to say this, I was endorsed by every major FOP in Louisville. Because they know we're all gonna have to work together to try to figure out what's going on in our city as far as crime goes."
Yancey: "A lot of people don't even know what the sheriff's do. If I'm elected sheriff, they'll know what we do. We serve papers, we serve EPO's, we serve warrants, we take care of the courthouse. We do evictions. We do executions. We pull people over. We can write citations, but that's not the focus of our job. We also have auto inspection, and of course, the sheriff collects the taxes. Which nobody likes that, but that's part of the job. But no, I want to change it. I'll put the right people in place. My administration will look like Louisville."
McDonald: "Well that could take weeks for me to explain that to you. The sheriff's office is a service organization that is a fee-based office that generates money through services to pay for its operation. And I want to keep it, you know, and the Jefferson County Sheriff's Office is the largest in Kentucky. And I want to keep it in the forefront and keep it in service for the people at the benefit of the taxpayers. It's a tremendous organization and I'm proud to know the men and women who work there."
Based on your personal and professional experience, why are you the best candidate for the job:
Rodman: "Personally, I mean, it's no secret I lost a son in the line of duty. I still have a son that's serving with LMPD. As far as my professional experience, I started with Corrections. I went to LPD, then Louisville Metro. I've been a domestic violence detective, I've been a division detective who investigates in violent crimes. I've been a training officer. Very proud to say this, I was 2016 Officer of the Year with LMPD. And I still currently serve. I serve with a small department so I know what's going currently out in our city."
Yancey: "I worked for the sheriff's office for 28 years. I've dealt with people in the community and also the officers. So I just think that I am the guy that can make this change. I'm still young enough to do that. I think I have a lot of respect in the community. And people will listen to me"
McDonald: "There's no other candidate in there that's got a law degree. Or has been a district court judge, or a senior circuit court judge. None of these others, except for one, who has even been a deputy sheriff. They've never done the work of the deputy sheriff at the sheriff's office, except for one. And so I know that industry inside and out, upside and down."
WDRB News talked to Aubrey on Wednesday as he prepares for the final days of the campaign. He said he's leaning on his more than 50 years of experience in law enforcement as his case for remaining as sheriff.
He said under his leadership, the department has maintained Law Enforcement Accreditation, and that his deputies participate in seven federal task force operations and drug interdiction units.
"It's my life. It's my life. I feel no more satisfaction than coming in here with the people in this office, the community, the citizens that are out there," Aubrey said. "You will know if that's what you really want to know because it's in your heart. It's not something you can fabricate. You will know."
He insists that despite his age, the office is up to training standards, and is looking at making upgrades to services, such as serving emergency protective orders.
"We have evolved to the point where the courts, once the judge signs it, can send it to us electronically to the cart that's responsible for serving those things. So we continue to look how to improve what we do and how we do it, and how to make it more efficient."
Early voting is underway for the Kentucky Primary Election. Election Day is May 17.
Related stories:
Copyright 2022 WDRB Media. All Rights Reserved.